One of our most popular challenge modes just got better. Introducing Team Virtual Race.
You asked for more team challenges to take the competition beyond the leaderboard. We've answered with our newest team mode: Team Virtual Race.
Team Virtual Race combines our beloved Virtual Race mode with our Team Leaderboard mode. The result? A race to see which team can move the furthest distance.
You select a map for your teams to race along, and set a total distance goal for each team to reach. You can use one of our engaging, preset maps or create your own map and milestones using our Virtual Racetrack Creator.
You can either create teams or allow users to create their own teams. Each team will compete to top the leaderboard by moving the highest average distance over the course of the challenge. Teams will unlock milestones together as they race along the map path.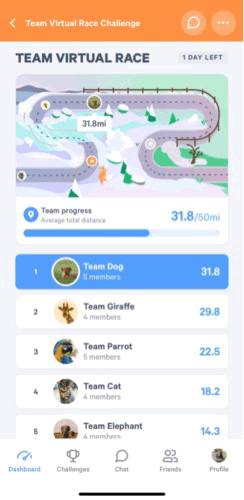 How are teams scored during the race?
Team Virtual Race ranks teams from high to low based on a team's average total distance. Just like in our Team Leaderboard mode, averages are used instead of totals to account for teams of various sizes.
As an admin, you set one distance goal for teams to achieve by the end of the challenge. Simply multiply the average distance you want participants to move per day by the duration of your challenge to set this goal. Teams will move along the map based on their average total distance. The winning team is the one with the highest average distance by challenge end.
For more information on how team challenges are scored, click here.
Teams have a fresh look, plus new cover photos!
We've made teams even more user-friendly with a new and improved user interface in the app. Additionally, we added the option to add a team cover photo. As an admin, you can upload a unique team photo and cover photo from the MoveSpring Admin Center. Learn more about creating teams here.
If you have user-created teams enabled for your challenge, users will be able to set their team photo and cover photo when they create their team.
Don't have the time to customize team photos? No worries! A default photo will be automatically given to each team photo and cover photo. You can choose to edit the images if you want to.
Team photos allow users to bring even more personality to your next team challenge, whether it is a Team Leaderboard or a Team Virtual Race!
Create a Team Virtual Race challenge for your next competition.
Ready to try it out? Click here to create your first Team Virtual Race challenge. Available to all one-time and annual clients.